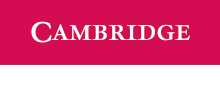 GCSE Mathematics Collection
Cambridge University Press has created a collection of revision quizzes covering four tricky topics for students to help them check their understanding.
For each topic there is:
A baseline quiz that helps students to check their understanding.
Worked answers to help students understand the mathematical concepts behind each question.
A progress quiz allowing students to ensure they comprehend the topic after reading the notes.
Written by our experienced author team, they are suitable for Foundation students through to Higher. For more information on our GCSE Mathematics resources visit
Cambridge.org/education
.